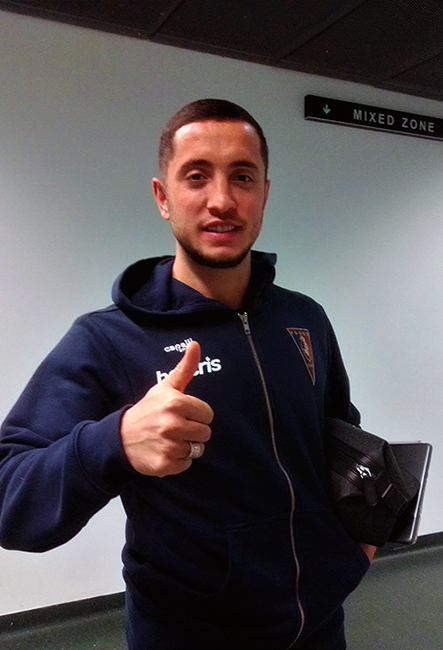 You had very promising beginning in Polish league when came in February with two scoring goals in the first two matches. How do you find yourself in Poland now?
— I feel good. I am happy when I am healthy, when I can play. This is for me the most important. From the beginning it was good, but then a little bit not good, but… OK, I must respect it, this is football, this is our job, so we have to do maximum every day to be ready for a next chance. And I hope that better days will come in the future. I have a job to do, but I can say I feel very good in Poland.
If I well understood you do expect to play more in the starting eleven.
— Yes, for sure, for sure… Every player wants to play in starting eleven. Sometimes things not going as you want. You have to work hard, wait for your chance. But you know, in football eleven players are playing, but also a lot of players want to play, everybody want to play, to show himself. Sometimes it is going well as you want, sometimes it is not as you expect. But you need to me patient, you need to be ready. That is the most important, because you don't know when the chance you can get. So I hope everything will be good and the best days for me in the Pogoń will come.
When I watched you in Pogoń games you did your best for the team in the same way, despite you play only a few minutes or ninety minutes.
— Exactly, but I always want more from myself. If I play good, that is OK. But I always want more… I analyze, I try to find how I can be better. There is no limit, that is sport, that is football. Every time you can even play better, never stop, even if you scored a few goals. Try to improve, improve, improve… Career is so short, that we should enjoy every game, every situation, even ten minutes from ninety minutes, because one day we will be too old and have to say "good bye" to football. So now, try to enjoy every minutes, to do your best, to help the team. In Szczecin from the first day I feel like a member of the family. Pogoń deserves more and more and more. So I will try, I will do and I am sure that better days for Pogoń will come.
You came to this club in a special moment. A few weeks ago a new stadium was opened and the atmosphere at it is excellent.
— Exactly! Every persons in the club, from my first day here became my brothers. Also supporters are OK. We are all together like a big family. Atmosphere is really fantastic at the new stadium. The coaching staff, the club president, the sport director – the all do their best to help you, that every week you can be hundred percent ready. In football bad things and good things are always fifty to fifty. Sometimes you can win, sometimes you can lose. But the most important is that we work hard every day and looking forward and forward. We have a strong team, good team mates, good people around, so as fast as possible you should go out from the negative situations and looking forward.
Pogoń would like to be Polish champions for the first time ever. Is it realistic?
— Why not? We have good players, we have that quality, that we can fight for the championship. As I said – Pogoń's better days will come. For sure! Pogoń has no cups, no titles, so we can be the first who create the history, who make everybody happy in Szczecin.
© Dariusz Kurowski excusively for Armenian Soccer from Warsaw
Image: Armenian Soccer